IJIET (International Journal of Indonesian Education and Teaching) is published in English twice a year, namely in January and July, by the Institute for Research and Community Services of Sanata Dharma University, Yogyakarta. IJIET welcomes articles on education and teaching. 
All articles to be submitted must be written in excellent English. Authors throughout the world are welcome to submit their original, unpublished full paper contribution all year round; there exists no specific deadline.
Publications in IJIET are completely free of charge -- with no article submission charges, no article processing charges and no article publication charges.
Authors throughout the world are warmly welcome to submit original and unpublished papers anytime, all year round.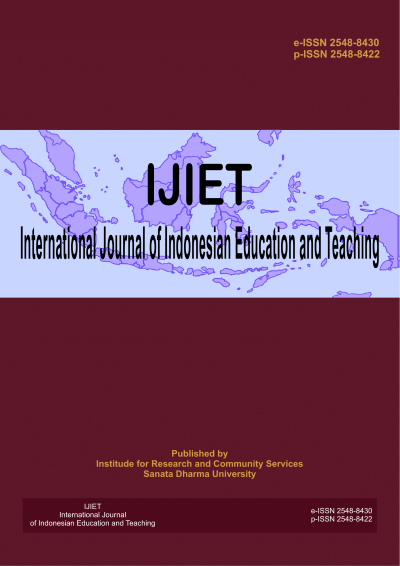 Vol 6, No 2 (2022): July 2022
Table of Contents
Articles
| | | |
| --- | --- | --- |
| | Leomarich F Casinillo, Emily L Casinillo, Christy T Lagumbay, Hannah Rissah F Abad, Myra L Dagongdong | 193-203 |
| | | |
| --- | --- | --- |
| | Gregorius Punto Aji | 204-225 |
| | | |
| --- | --- | --- |
| | Indra Hendro, Victor Wiley, Thomas Lucas | 226-242 |
| | | |
| --- | --- | --- |
| | Emmanuel Olorunleke Eseyin | 243-261 |
| | | |
| --- | --- | --- |
| | Sibakhul Milad Malik Hidayatulloh | 262-278 |
| | | |
| --- | --- | --- |
| | Lemessa Abdi Negesso, Ambissa Kenea | 279-298 |
| | | |
| --- | --- | --- |
| | Irine Kurniastuti, Anastasia Rita Widiarti, Robertus Adi Nugroho, Kartono Pinaryanto | 299-308 |
| | | |
| --- | --- | --- |
| | Kristian Florensio Wijaya | 309-321 |
| | | |
| --- | --- | --- |
| | Ignatia Esti Sumarah, Cipta Gilang Kencana | 322-331 |
| | | |
| --- | --- | --- |
| | Erfa Navadiatul Ula | 332-340 |
| | | |
| --- | --- | --- |
| | Saifullah Saifullah, Hendri Yawan | 341-350 |