Solution : Journal of Counselling and Personal Development is a scientific and open access journal in the field of Counseling and Behavioral Sciences. This journal is published Biannually (June and December) since 2019. Solution : Journal of Counselling and Personal Development managed by the Department of Guidance and Counseling - Universitas Sanata Dharma in collaboration with Asosiasi Bimbingan dan Konseling Indonesia (ABKIN).

The scope of this journal encompasses the research, theory, and applications of (1) Counselor Development; (2) Supervision in Counseling; (3) Issues, Concerns and Potential Solutions, and; (4) Clinical Supervisors Stories. 

We strongly prefer to receive manuscripts via our online submission system. With using our system, authors can upload manuscript files (text, figures, and supplementary information) directly to our office and check on the status of Reviews their manuscripts during the review process.
Authors are requested to prepare a manuscript in accordance with the Instructions for preparation of manuscript and then to follow the Author Guidelines for submission.
Submissions are reviewed for Appropriateness, Scientific Merit, Scholarly Content, Rationale, and Clarity.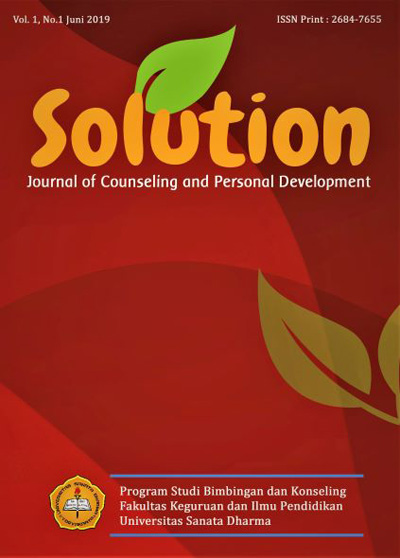 Announcements
No announcements have been published.
Vol 1, No 2 (2019)