Sintesis adalah jurnal ilmiah bahasa, sastra, dan kebudayaan Indonesia yang diterbitkan oleh Program Studi Sastra Indonesia, Fakultas Sastra, Universitas Sanata Dharma, Yogyakarta. Sintesis terbit pertama kali bulan Oktober 2003 dengan frekuensi terbit dua kali setahun pada bulan Maret dan Oktober.
Sintesis is a scientific journal of Indonesian language, literature, and culture published by the Indonesian Letters Study Program, Faculty of Letters, Sanata Dharma University, Yogyakarta. Sintesis was first published in October 2003 with a frequency of publishing twice a year in March and October.
Sintesis focuses on the publication of articles that transcend disciplines and which, regardless of subject, appeal to a diverse readership and advance the study of humanities, particularly in Indonesia. These articles contribute to the strengthening of critical approaches, increasing the quality of critique, or encouragement of innovative methodologies.
Topics include:
Culture (Cultural Studies, Media Studies)
Language (Phonology, Morphology, Syntax, Semantics, Sociolinguistics, Pragmatics, Applied Linguistics, Comparative Linguistics, Ethnolinguistics)
Literature (Comparative Literature, Indonesia Literature)
Only original research articles and book reviews are accepted.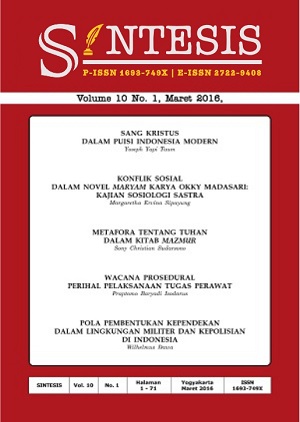 | | |
| --- | --- |
| | This journal has been ACCREDITED by National Journal Accreditation (ARJUNA) and Managed by the Ministry of Research, Technology, and Higher Education, Republic Indonesia, with Fourth-Grade (Peringkat 4, Sinta 4) since the year 2018 to 2023 according to decree No. 28/E/KPT/2019. |

Before submission,
You have to make sure that your paper is prepared using the Sintesis paper TEMPLATE, has been carefully proofread and polished, and conformed to the author's guidelines.  


Online Submissions
Already have a Username/Password for Sintesis?
GO TO LOGIN
Need a Username/Password?
GO TO REGISTRATION
Registration and login are required to submit items online and to check the status of current submissions.
Announcements
No announcements have been published.
Vol 17, No 2 (2023)
Table of Contents
Articles