MULTIMEDIA-BASED PRESENTATION AND SELF-CONFIDENCE ANALYSIS: A QUANTITATIVE STUDY ON ENGLISH LANGUAGE LEARNING OF VOCATIONAL COLLEGE STUDENTS
Abstract
Technology using multimedia assistance is expected to be able to boost some changes both in the classroom atmosphere in general and individual in particular either cognitive (learning outcomes) or affective (learning attitudes). One of learning media that is well-known among users in education is multimedia presentations or Power Point which combine text, graphics, images, photos, audio, videos, and animation in an integrated manner. One of learning tools featuring those conveniences is Genially. The current study was preliminary in nature regarding the use of Genially online media presentation and to investigate with respect its influence on self-confidence among male and female students. The study focused on one skill of language in delivering selected topic or idea using English. Using a quantitative approach, this study involved 62 students consisting of 42 males and 20 females of sophomore students from one vocational college in a small city in Indonesia. To determine level of self-confidence, students were given a questionnaire responding 12 statements in 4 answer scales. Output of One Way Anova and regression test calculation showed that the use of PowerPoint Genially influenced self-confidence for both genders. Even though this media was capable to lead more pleasant and enjoyable learning atmosphere, the influence performed by the variables was considered less significant. This means that students still feel less confident to use oral English in delivering selected topics to their friends in the class.
Keywords
Multimedia Presentation, Genially, Self Confidence, English Speaking
References
Abdulhussain, A. H., Jabor, Abdulkadhum, I., & Ghani, A. A. (2017). The Role of Self- Confidence Effectiveness for English Language Learners. Mustansiriyah Journal of Arts, 77, 1–21. https://www.iasj.net/iasj?func=article&aId=122939
Ahmadi, M. R. (2018). Mohammad Reza Ahmadi 1*. International Journal of Research in English Education (IJREE), 3(2), 115–125.
Babiker, M. E. A. (2015). For effective use of multimedia in education, teachers must develop their own educational multimedia applications. Turkish Online Journal of Educational Technology, 14(4), 62–68.
Brock, S., & Joglekar, Y. (2011). Interdisciplinary Journal of Information, Knowledge, and Management Empowering PowerPoint: Slides and Teaching Effectiveness. Interdisclplinary Journal of Information, Knowledge, and Management, 6.
Coverdale-Jones, T. (2000). The Use of Video-conferencing as a Communication Tool for Language Learning. IALLT Journal of Language Learning Technologies, 32(1), 27–40. https://doi.org/10.17161/iallt.v32i1.8308
Emprende, A. (2018). [9] Juan Rubio Lopez (wikipedia). Wikipedia.
Fauzi, I. (n.d.). The Application of Multimedia-Based Presentation in. 1(1), 103–112.
Grussendorf, M. (2004). Ox_English_for_Presentations.pdf. Oxford Univesity Press.
Guan, N. et al. (2017). The application of multimedia technology in teaching innovation. International Forum on Management, Education and Information Technology Application (IFMEITA) 2017, 2, 432–437. https://doi.org/10.1520/JTE20200232
Hasan, H., Hanafi, M., & Sadapotto, A. (2020). Correlation Between EFL Learners Self-Confidence and Speaking Skill. Majesty Journal, 2(2), 48–56. https://doi.org/10.33487/majesty.v2i2.589
Inoue-Smith, Y. (2016). College-based case studies in using PowerPoint effectively. Cogent Education, 3(1). https://doi.org/10.1080/2331186X.2015.1127745
Jones, A. M. (2003). The use and abuse of PowerPoint in Teaching and Learning in the Life Sciences: A Personal Overview. Bioscience Education, 2(1), 1–13. https://doi.org/10.3108/beej.2003.02000004
K. Thyagharajan et.al. (2015). Effective Multimedia Presentation Models. February.
Kalanzadeh, G.-A., Mahnegar, F., Hassannejad, E., & Bakhtiarvand, M. (2013). The Influence of Efl Students ' Self -Esteem on Their Speaking Skills. The International Journal of Language Learning and Applied Linguistics World (IJLLALW), 2(2), 76–83.
Listyani, L.-, & Kristie, L. S. (2018). Teachers' Strategies to Improve Students' Self-Confidence in Speaking: A Study at Two Vocational Schools in Central Borneo. Register Journal, 11(2), 139. https://doi.org/10.18326/rgt.v11i2.139-153
Muhasim. (2017). Pengaruh Tehnologi Digital, terhadap Motivasi Belajar Peserta Didik. Jurnal Studi Keislaman Dan Ilmu Pendidikan, 5(2), 53–77.
Nurhayati, N., Rosmaiyadi, R., & Buyung, B. (2017). Efforts To Improve Student'S Self Confidence Using Collaborative Learning Model. JPMI (Jurnal Pendidikan Matematika Indonesia), 2(2), 57. https://doi.org/10.26737/jpmi.v2i2.223
Omar, N. D. @, Hassan, H., & Atan, H. (2012). Student Engagement in Online Learning: Learners Attitude Toward E-Mentoring. Procedia - Social and Behavioral Sciences, 67(November 2011), 464–475. https://doi.org/10.1016/j.sbspro.2012.11.351
Park, Hyesook & R. Lee, A. (2014). L2 Learners' Anxiety, Slef Confidence and Oral Performance. Comparative Education, 50(1), 197–208. https://doi.org/10.1080/03050068.2013.871832
Stošić, L. (2015). The importance of educational technology in teaching. International Journal of Cognitive Research in Science, Engineering and Education, 3(1), 111–114. https://doi.org/10.23947/2334-8496-2015-3-1-111-114
Syafii, M. L., Sugianto, A., & Cendriono, N. (2019). Improving Students Speaking Skill By Using Multimedia Presentation Strategy. English Review: Journal of English Education, 7(2), 125. https://doi.org/10.25134/erjee.v7i2.1690
Wanner, T. (2015). Enhancing Student Engagement and Active Learning through Just-in-Time Teaching and the use of PowerPoint. International Journal of Teaching and Learning in Higher Education, 27(1), 154–163. http://www.isetl.org/ijtlhe/
Wulandari, W., & Id, G. W. C. (2015). THE CORRELATION BETWEEN STUDENTS' SELF-ESTEEM AND THEIR ENGLISH SPEAKING COMPETENCIES (A Study of Eleventh Grade Students at a Public Senior High School in Cimahi). Journal of English and Education, 2015(2), 121–137.
Zaim, P. M., & Hum, M. (2016). THE POWER OF MULTIMEDIA TO ENHANCE LEARN ERS ' LANGUAGE SKILLSIN MULTILINGUAL CLASS. 22–29.
Zamari, Z. M., Adnan, A. H. M., Idris, S. L., & Yusof, J. (2012). Students' Perception of using Online Language Learning Materials. Procedia - Social and Behavioral Sciences, 67(November 2011), 611–620. https://doi.org/10.1016/j.sbspro.2012.11.367
DOI:
https://doi.org/10.24071/llt.v24i2.3437
DOI (PDF):
https://doi.org/10.24071/llt.v24i2.3437.g2453
Refbacks
There are currently no refbacks.
Copyright (c) 2021 Iin Indrayanti

This work is licensed under a
Creative Commons Attribution-ShareAlike 4.0 International License
.
Indexed and abstracted in:
LLT Journal Sinta 2 Certificate (S2 = Level 2)
We would like to inform you that LLT Journal: A Journal on Language and Language Teaching has been nationally accredited Sinta 2 by the Ministry of Education, Culture, Research and Technology of the Republic of Indonesia based on the decree  No. Surat Keterangan 158/E/KPT/2021. Validity for 5 years: Vol 23 No 1, 2020 till Vol 27 No 2, 2024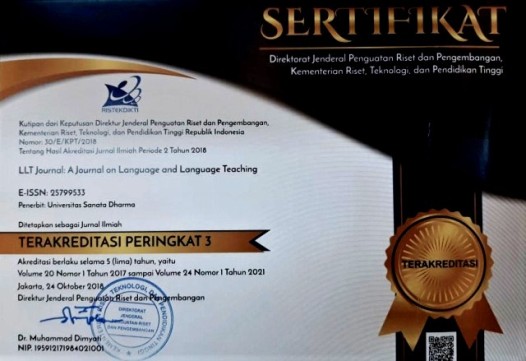 This work is licensed under CC BY-SA.
Creative Commons Attribution-ShareAlike 4.0 International License


 LLT Journal: A Journal on Language and Language Teaching is published twice a year, namely in April and October by the English Language Education Study Programme of Teacher Training and Education Faculty of Sanata Dharma University, Yogyakarta, Indonesia.