A B C D E F G H I J K L M N O P Q R S T U V W X Y Z All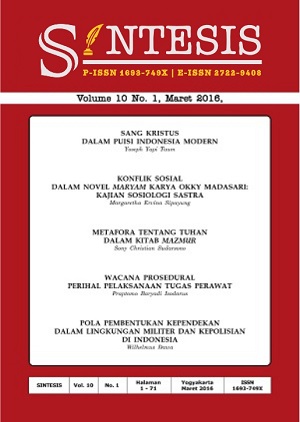 Sintesis
Sintesis adalah jurnal ilmiah bahasa, sastra, dan kebudayaan Indonesia yang diterbitkan oleh Program Studi Sastra Indonesia, Fakultas Sastra, Universitas Sanata Dharma, Yogyakarta. Sintesis terbit pertama kali bulan Oktober 2003 dengan frekuensi terbit dua kali setahun pada bulan Maret dan Oktober.
Sintesis is a scientific journal of Indonesian language, literature, and culture published by the Indonesian Letters Study Program, Faculty of Letters, Sanata Dharma University, Yogyakarta. Sintesis was first published in October 2003 with a frequency of publishing twice a year in March and October.
Sintesis focuses on the publication of articles that transcend disciplines and which, regardless of subject, appeal to a diverse readership and advance the study of humanities, particularly in Indonesia. These articles contribute to the strengthening of critical approaches, increasing the quality of critique, or encouragement of innovative methodologies.
Topics include:
Culture (Cultural Studies, Media Studies)
Language (Phonology, Morphology, Syntax, Semantics, Sociolinguistics, Pragmatics, Applied Linguistics, Comparative Linguistics, Ethnolinguistics)
Literature (Comparative Literature, Indonesia Literature)
Only original research articles and book reviews are accepted.
View Journal | Current Issue | Register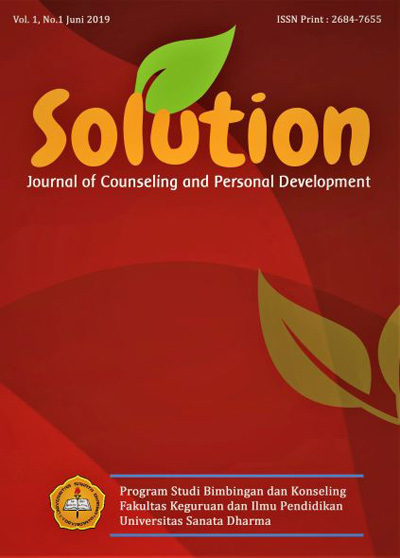 Solution : Journal of Counselling and Personal Development
View Journal | Current Issue | Register
Spiritualitas Ignatian: Jurnal Kerohanian dalam Dunia Pendidikan
"Spiritualitas Ignatian: Jurnal Kerohanian dalam Dunia Pendidikan" is a scholarly, peer reviewed, open access, online journal focused on the development, advancement, and critique of Ignatian Spirituality in the context of education and other contexts, including pastoral, youth, social, humanities, missions, and others. This Journal is published twice yearly, in July and December. 
View Journal | Current Issue | Register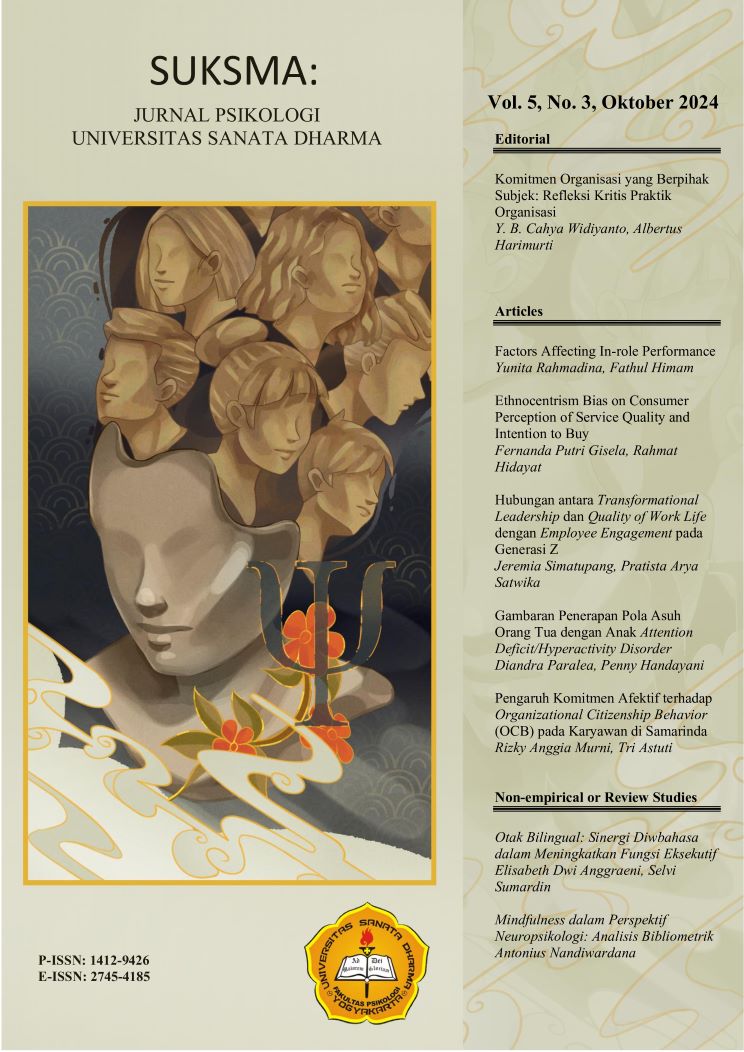 Suksma: Jurnal Psikologi Universitas Sanata Dharma
| | |
| --- | --- |
| Journal Title | |
| ISSN | |
| Editor in Chief | |
| Publisher | Fakultas Psikologi, Universitas Sanata Dharma, Yogyakarta, Indonesia |
| Frequency | 2 issues per year (Mei and October) |
| Citation analysis | |
| DOI | |
| Plagiarism Checker | |
Suksma adalah jurnal psikologi yang diterbitkan oleh Fakultas Psikologi Universitas Sanata Dharma Yogyakarta. Suksma menerima naskah hasil penelitian lapangan, artikel psikologi yang berbasis kajian teoretik, resensi buku dan juga obituari. Semua karya tulis harus merupakan naskah yang orisinal dan belum diterbitkan di media publikasi manapun. Suksma terbit 2 kali setahun yaitu pada bulan Mei dan Oktober.
[Suksma is a scientific journal of psychology published by the Faculty of Psychology, Sanata Dharma University, Yogyakarta. We accept manuscripts from empirical research, psychology articles based on theoretical studies, book reviews, and obituaries. All written papers must be original manuscripts and haven't been published in any publication media. Suksma is published twice a year, namely in May and October]