Journal Title in English

Initials

Abbreviation

Frequency

DOI

Print ISSN

Online ISSN

Editor in Chief

Managing Editor

Publisher

Citation Analysis

Journal of Asian Orientation in Theology

JAOT

JAOT

2 issues per year (February and August)

https://doi.org/10.24071/jaot

2775-3425

2656-7997

C.B. Mulyatno

Antonius Galih Arga Wiwin A.

Faculty of Theology, Sanata Dharma University

Google Scholar | Portal Garuda
Journal of Asian Orientation in Theology is founded and sponsored by Sanata Dharma University School of Theology. It publishes scientific and critical thoughts in Asian theology with contextual and interdisciplinary approaches. The focus of this publication is to develop contextual theological discourses in dialogue with sociological, anthropological, comparative religion, religious studies, historical, cultural and psychological perspectives and takes the diversity of Asian societies and cultures as its context. The journal is open to scholars from all religious backgrounds who are undertaking serious theological works that are related to Asia.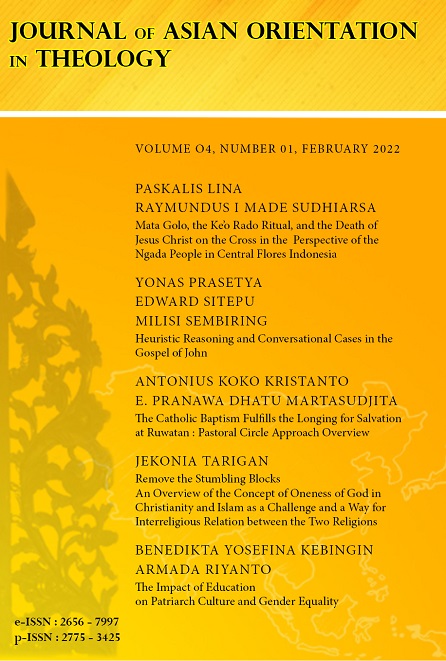 Announcements
No announcements have been published.
Vol 3, No 1 (2021): Journal of Asian Orientation in Theology