Indexed and abstracted in:
IJHS Sinta Certificate (S4 = Level 4)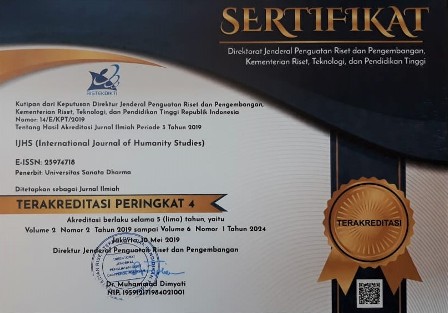 This work is licensed under CC BY-SA.
Creative Commons Attribution-ShareAlike 4.0 International License.
p-ISSN: 2597-470X (since 31 August 2017); e-ISSN: 2597-4718 (since 31 August 2017)
International Journal of Humanity Studies (IJHS) is a scientific journal in English published twice a year, namely in September and March, by Sanata Dharma University, Yogyakarta, Indonesia.
Note: The opinions expressed in this publication are those of the authors. They do not purport to reflect the opinions or views of the editorial team or publishers.