KINGYAW'S RECITING POEM ON AFRO-AMERICAN ACCENT: THE WORLD-ENGLISHES MOVEMENT
Abstract
Fanon in his book titled 'Black Skin, White Masks' says that no matter how smart black people may become, white people will always feel the sense of 'inferiority' in which black people speak Pidgin. The sense of imitation of imitating makes  the colonizer culture, in which the black people come across inferior from the white's perspective. KingYaw's YouTube video tries to break such a false perception. In his video, he talks the way black people have their unique accent It cannot be  compared to the Received Pronunciation (BrE). Therefore, this study aims to unravel the linguistic theory on language variation as a part of the World-Englishes movement. This study uses descriptive qualitative method by having one of KingYaw's video performing and reciting a poem titled "Accent" that was uploaded in YouTube on December 17th, 2018. Post-colonialism allows the people to see the world without discrimination. 
Keywords
World-Englishes Movement, Fanon, Post-colonialism, Accent, Postmodernism
References
Bheeroo, Lena. Mafethe, Pontso. Billing, Leila (2021). Racism, Power, and Truth: Experiences of people of colour in development. Bond Society Building: London
Bhowmik, S. K. (2015). World Englishes and English Language Teaching: A Pragmatic and Humanistic Approach. Colomb. Appl. Linguist. J., 17(1), pp.142-157.
Du Bois, W. E. B. (1994). The Souls of Black Folk. New York, Avenel, NJ: Gramercy Books.
Fanon, Frantz. (1970). Toward the African Revolution. London: Penguin Book.
Carnegie Council. (2021). African American Identity and Double Consiousness. https://www.carnegiecouncil.org/education/002/worksheets/ushistory/mlk/doubleconsciousness
Chandra, Tan Michael (2019) RECLAIMING CUBAN CULTURAL IDENTITY WHILE LIVING AS A CUBAN DIASPORA IN AMERICA AS DEPICTED IN CAMILA CABELLO "HAVANA". Language and Literature Journal (LIRE). Vol 3 No 1 pp 50-65. DOI: https://doi.org/10.33019/lire.v3i1.43
Gijimah, T. (2019). Code-switching as a means of struggling against the English hegemony at Midlands State University. Journal for Studies in Humanities and Social Sciences. Volume 8 p 44-60.
Hoffmann, C. (1991). An Introduction to Bilingualism. London: Longman.
Karim, Mohd Hafiz Bin Abdul, Azlan, Ariff Aizudin (2019) Modernism and postmodernism in feminism: A conceptual study on the developments of its defination, waves and school of thought. Malaysian Journal of Social Sciences and Humanities. Vol 4 Issue 1 pp 1-14
Kyeremateng,Yaw. (2018). Accent. Texas Grand Slam Poetry Festival. Texas A&M University. https://www.YouTube.com/watch?v=d9obCZ-Fhog&t=29s
Maier, D. J. , Davies, . Oliver , Fage, . John D. and Boateng, . Ernest Amano (2020, April 1). Ghana. Encyclopedia Britannica. https://www.britannica.com/place/Ghana
Ngongo, M., Benu, N. (2020). Interpersonal and Ideational Metaphors in the Writing of Thesis Texts of Undergraduate Students of English Study Program: A Systemic Functional Linguistic Approach. Retorika: Jurnal Ilmu Bahasa, 6(2), 113-120. doi: https://doi.org/10.22225/jr.6.2.2320.113-120
Dewi, Novita (2021). Countering xenophobiaand racism through short stories for history students. International Journal of Humanity Studies. Vol 1 No 1 pp 38-46 DOI: 10.24071/ijhs.v5i1.3697
Oxford Dictionary. (2021, March 30th).Definition of Navigate. Retrieved from https://www.oxfordlearnersdictionaries.com/definition/english/navigate
Peter, Michael A. (2018). After postmodernism in educational theory? A collective writing experiment and thought survey. Educational Philosophy and Theory. P.1299-1307
Pei, Zhengwei. Yanhong Xing. (2016). Perceptions of world englishes accents in English phonetics instruction of China. International Journal of Applied Linguistics and English Literature. Volume 5 Number 4 pp 183-188. http://dx.doi.org/10.7575/aiac.ijalel.v.5n.4p.183
Rahim, Hajar Abdul. Shakila Abdul Manan. (2014). English in Malaysia: Postcolonial and Beyond. New York: Peter Lang. https://doi.org/10.3726/978-3-0351-0696-1
Sa'd, Seyyed Hatam Tamimi. (2018). World English and world Englishes: perspective from English language learners in Iran. Journal of World Languages. P 1-23. Routledge.
Said, Edward. (2001). Power, Politics, and Culture. Bloomsbury: UK
Sandelowski M. (2010). What's in a name? Qualitative Description Revisited. Res Nurs Health. 33(1): 77-84
Schneider, Edgar (2007) Postcolonial English. Varieties around the World. Cambridge: University Press.
Shringarpure, Bhakti. (2015). The afterlive of Frantz Fanon and the reconstruction of postcolonial studies. Journal of French and Francophone Philosophy. Vol XXIII p.113-128. DOI 10.5195/jffp.2015.676
Strong, Myron T., Chaplin, K Sean (2019) Afrofuturism and Black Panther. American Sociological Association. Vol 18 Issue 2 pp 58-59. https://doi.org/10.1177/1536504219854725
Wells, J. (2014). English phonetics: Theory and practice. In Sounds Interesting: Observations on English and General Phonetics (pp. 38-81). Cambridge: Cambridge University Press. Doi: 10.1017/CBO9781139871327.003
Widdowson, H. G. (1994). The ownership of English. TESOL Quarterly, 28, 377-389.
DOI:
https://doi.org/10.24071/ijhs.v5i1.3729
DOI (PDF):
https://doi.org/10.24071/ijhs.v5i1.3729.g2386
Refbacks
There are currently no refbacks.
Copyright (c) 2021 Nurvita Wijayanti

This work is licensed under a
Creative Commons Attribution-ShareAlike 4.0 International License
.
Indexed and abstracted in:
IJHS Sinta 3 Certificate (S3 = Level 3)
International Journal of Humanity Studies (IJHS) has been nationally accredited Sinta 3 by the Ministry of Education, Culture, Research and Technology of the Republic of Indonesia based on the decree  No. Surat Keterangan 158/E/KPT/2021. Validity for 5 years: Vol 4 No 1, 2020 till Vol 8 No 2, 2024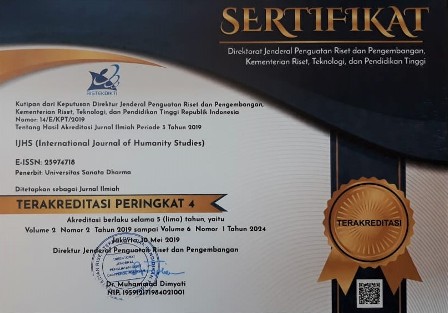 This work is licensed under CC BY-SA.
Creative Commons Attribution-ShareAlike 4.0 International License.
p-ISSN: 2597-470X (since 31 August 2017); e-ISSN: 2597-4718 (since 31 August 2017)
International Journal of Humanity Studies (IJHS) is a scientific journal in English published twice a year, namely in September and March, by Sanata Dharma University, Yogyakarta, Indonesia.
Note: The opinions expressed in this publication are those of the authors. They do not purport to reflect the opinions or views of the editorial team or publishers.