INVESTIGATING EFL LEARNERS' "INDONGLISH" USAGE BY ENGLISH DEPARTMENT STUDENTS: A QUALITATIVE STUDY
Abstract
The aim of this study was to analyze the specific vocabulary in the Indonglish phenomenon that the Tidar University students use in the educational environment at Tidar University, the meaning that exists in Indonglish at Tidar University, and the impact Indonglish usage in the use of Indonesian is correct and right in the environment education in universities in Tidar University in a signification effort Indonesian. Indonglish is a term often used for the use of the English language which is nuanced by Indonesian culture. Indonglish study focuses on environmental education, particularly in higher education that is not only limited to the academic setting but also non-academic. The researchers used qualitative research, the data of this research were a wide range of speeches acquired in an educational environment, especially in Java, in which there are forms of language linguistically mixed Indonesian and English. Locational data source of this research were the perpetrators of students in environmental education at Tidar University. The result is the 5th semester students produced 35 Indonglish vocabulary and the 7th semester students produced 31 Indonglish vocabulary. The basic assumption for determining the locational data sources was the consideration that the students, faculties, and staffs had a varied background of social, economic, cultural so that it was expected to describe the condition of society. The data analysis was conducted by applying the distributional method that was commonly done in linguistics. The method of analysis was done after the data were collected and properly classified. Furthermore, the interpretation of the data was done.  Then, the interpreted data were presented informally.
Keywords
Indoglish, sociolinguistic, university, Tidar University, Java
References
Abadi, C. P. (2015). Developing speaking skill in EFL English course. Journal on English as a Foreign Language, 5(2), 133. https://doi.org/10.23971/jefl.v5i2.373
Bolton, K. (2012). World Englishes and linguistic landscapes. World Englishes. https://doi.org/10.1111/j.1467-971X.2011.01748.x
Cam, L., & Tran, T. M. T. (2017). An evaluation of using games in teaching English grammar for first year English-majored students at Dong Nai Technology University. International Journal of Learning, Teaching and Educational Research, 16(7), 55–71. Retrieved from https://pdfs.semanticscholar.org/ea44/48f1c6cbb8dab7420abbd20a993a86728206.pdf
Harmer, J. (2007). The Practice of English Languag Teaching. 394–409.
Kayaoğlu, M. N., & Sağlamel, H. (2013). Students' perceptions of language anxiety in speaking classes. Journal of History Culture and Art Research. https://doi.org/10.7596/taksad.v2i2.245
Nurmasari, L., Subiyantoro, S., & Fadhilah, S. (2017). Primary school students' barriers on learning Javanese Language: a case study in Central Java, Indonesia. https://doi.org/10.2991/ictte-17.2017.103
Quinn Patton, M., & Cochran, M. (2007). A guide to using qualitative research methodology. In Medecins Sans Frontieres. Retrieved from http://msf.openrepository.com/msf/handle/10144/84230
Riadil, I. G. (2019). The EFL learner's perspectives about accuracy, fluency, and complexity in daily routines. Journal of Research on Applied Linguistics, Language, and Language Teaching, 2(2), 160–166.
Riadil, I. G. (2020a). A study of students' perception: Identifying EFL learners' problems in speaking skill. International Journal of Education, Language, and Religion, 2(1), 31–38.
Riadil, I. G. (2020b). Investigating efl learners'reading comprehension problems and strategies in Tidar University. JELLT (Journal of English Language and Language Teaching), 4(1), 48–58.
Saddhono, K., & Rohmadi, M. (2014). A sociolinguistics study on the use of the Javanese language in the learning process in primary schools in Surakarta, Central Java, Indonesia. International Education Studies. https://doi.org/10.5539/ies.v7n6p25
Wardhaugh, R. (2006). An Introduction to sociolinguistics (5th ed.). In Blackwell Publishing.
Williamson, K., Given, L. M., & Scifleet, P. (2018). Qualitative data analysis. In Research Methods: Information, Systems, and Contexts: Second Edition. https://doi.org/10.1016/B978-0-08-102220-7.00019-4
DOI:
https://doi.org/10.24071/ijhs.v5i1.1943
DOI (PDF):
https://doi.org/10.24071/ijhs.v5i1.1943.g2383
Refbacks
There are currently no refbacks.
Copyright (c) 2021 Ikrar Genidal Riadil

This work is licensed under a
Creative Commons Attribution-ShareAlike 4.0 International License
.
Indexed and abstracted in:
IJHS Sinta 3 Certificate (S3 = Level 3)
International Journal of Humanity Studies (IJHS) has been nationally accredited Sinta 3 by the Ministry of Education, Culture, Research and Technology of the Republic of Indonesia based on the decree  No. Surat Keterangan 158/E/KPT/2021. Validity for 5 years: Vol 4 No 1, 2020 till Vol 8 No 2, 2024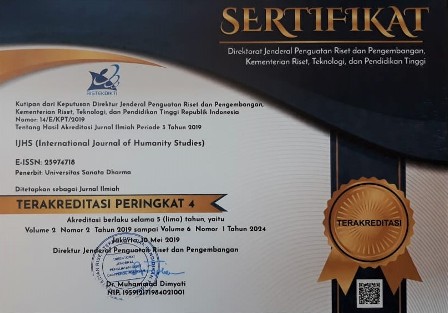 This work is licensed under CC BY-SA.
Creative Commons Attribution-ShareAlike 4.0 International License.
p-ISSN: 2597-470X (since 31 August 2017); e-ISSN: 2597-4718 (since 31 August 2017)
International Journal of Humanity Studies (IJHS) is a scientific journal in English published twice a year, namely in September and March, by Sanata Dharma University, Yogyakarta, Indonesia.
Note: The opinions expressed in this publication are those of the authors. They do not purport to reflect the opinions or views of the editorial team or publishers.